Write@UGA 2020: February 28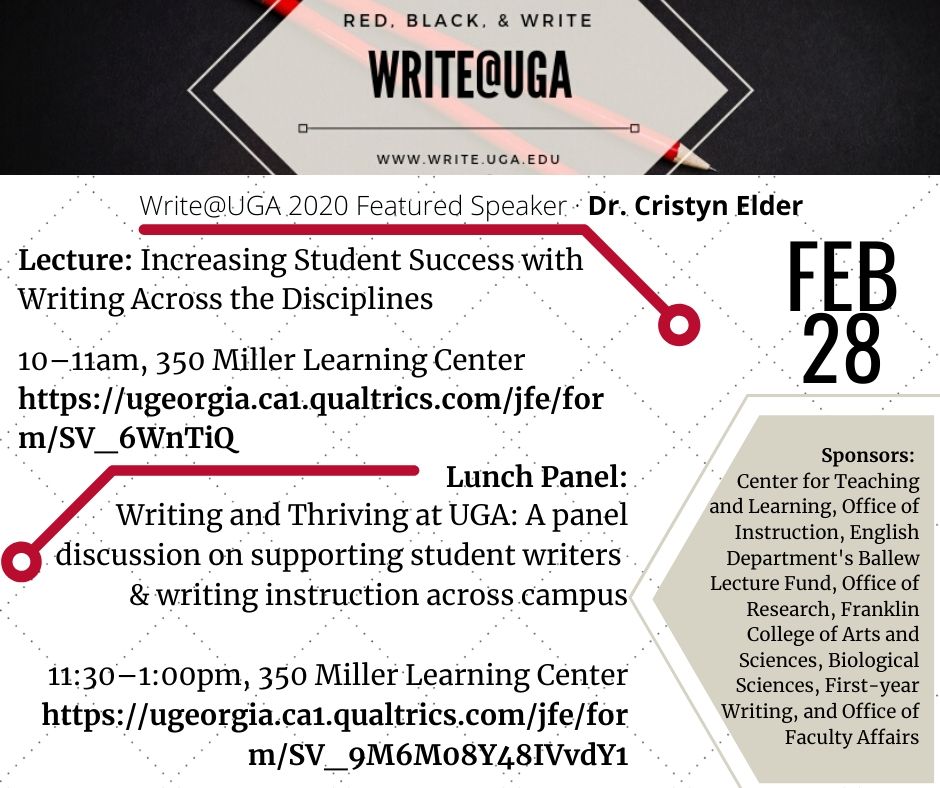 Write@UGA is proud to present our featured speaker on Friday, February 28, 2020. This year we welcome Dr. Cristyn Elder, Associate Professor of Rhetoric and Writing and Director of Writing Across the Curriculum at the University of New Mexico. She has a great deal of experience supporting students as writers in a wide variety of global contexts—from serving as a Peace Corps Master's Internationalist in Ukraine to working as an English Language Specialist in Tajikistan, Panama, and El Salvador—and she has published widely in leading writing studies journals, including WPA: Writing Program Administration, Composition Studies, Composition Forum, Across the Disciplines, and the Writing Center Journal.
Dr. Elder is also a co-founder and editor of Present Tense: A Journal of Rhetoric in Society and a co-founder of WPA-GO (the Council of Writing Program Administrators Graduate Student Organization).
She received UNM's 2018–2019 Outstanding Teacher of the Year Award, 2015–2016 Outstanding New Teacher of the Year Award, and 2015 Golden Louie for Outstanding Faculty Student-Service Provider. She is also co-recipient with Dr. Bethany Davila of the 2016 Award for Innovation from the Council on Basic Writing.
Dr. Elder will present a keynote address at 10 am presenting data on writing as a high-impact tool for learning, and she will moderate a panel discussion (lunch will be provided) with faculty from across campus on supporting student writers and writing instruction across the curriculum. To register, please select the links below:
Lunch Panel (11:30 – 1 pm, 350 MLC)
We look forward to seeing you at this year's events!